Victoria Pearls to test the Capricon eagles of Namibia and Lady Chevrons |Tri-Series
2 min read
The Victoria Pearls haven't played any International cricket game since September 2021 where they featured in the T20 World Cup qualifiers in botswana.
They bounce back to international cricket with a lot of changes in their squad having named six new faces to feature in the tri series against Zimbabwe women and Namibia women with a new coaching stuff.
The Victoria Pearls take on the hosts (Namibia women at 10:30am) and later on play the Lady Chevron at 3:30pm in a T20 format.
Consy Aweko will captain the side assisted with experienced Janet Mbabazi who has been able to display her skills on some big stages of international cricket and with Rita Nagendo who lasted featured for Uganda in 2013 will surely add nothing but her experience and skills will be a big boost to the team.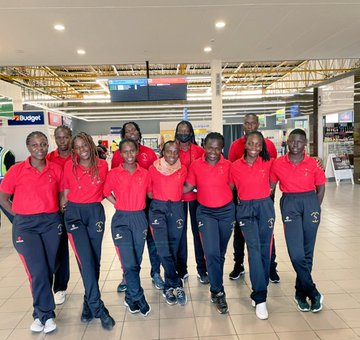 on the other side, Namibia women will be playing their second game of the series having registered their first win over the lady chevrons by 7 wickets. Before the series Namibia women were ranked 21st and will be looking at improving their status.
on top of that, the Victoria Pearls will face the lady chevrons who are currently ranked 11th and lost their opener against the host, a win for them against Uganda women will energize the team.
The main purpose of these games is to improve the ICC rankings and each team will be looking at improving.
Fixture
Namibia women Vs Uganda women at 10:30am
Uganda women Vs Zimbabwe women at 3:30pm
About Author